For decades, human beings have been fascinated by dolphins-for a good reason! With their adorable smiles, fantastic acrobatic skills, incredible social skills, and intelligence, dolphins have become some of the world's most admired ocean animals.
Because of this, going swimming with these amazing animals has become a hobby for many worldwide.
If you are interested in swimming with dolphins, you would want to know all the fun and memorable activities you can do. Because many people have taken to swimming with dolphins, many places offer specific packages so that people together with their loved ones can have the time of their lives.
The more activities there are in a package, the more costly it will be. Nevertheless, most people choose such packages because the experience is worth every dime. Besides, even small kids are not left out in the fun because dolphins are friendly to everyone.
You will want to know the best places to swim with your favorite ocean animal, get the best prices, and choose the best program. Generally, you will get a 30-45 minutes encounter with dolphins for most programs, which is plenty of time.
Click here And be informed about swimming with dolphins and be better positioned to choose the best program for you.
Top reasons to swim with dolphins
Learn more about the marine world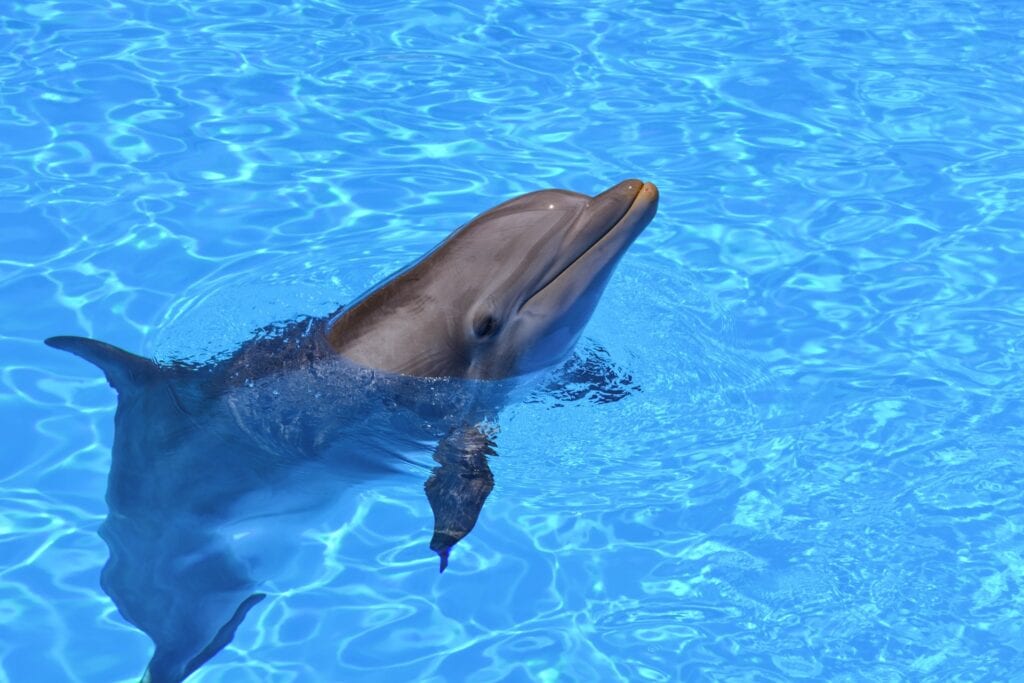 Why only see the marine world in books and movies when you can experience it first hand?
Swimming with dolphins allows you to see these beautiful animals up close and appreciate their intelligence.
Besides, your every interaction with dolphins is accompanied by a specialist who teaches everything there is to know about the adorable animals.
Develop their social sense
Dolphins are the most social and friendly animals in the marine world. The way they bond with each other is simply incredible.
Being able to see that is fantastic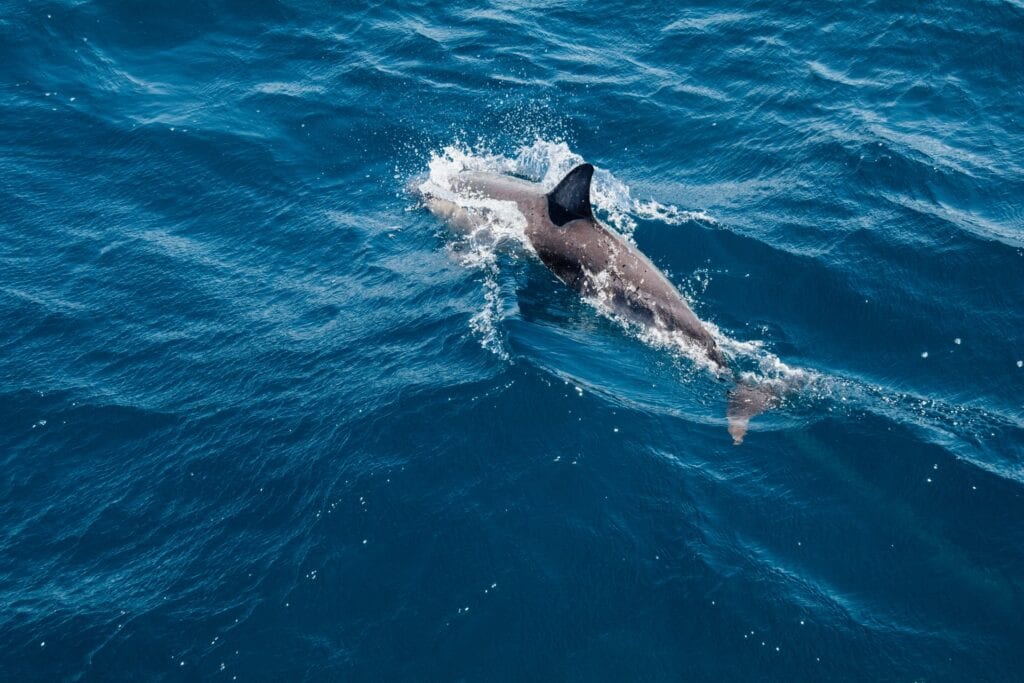 Swimming with them, you see how they interact with each other, recognize each other, and communicate with you. At the end of your program, you can be sure that you will be more of a member of their team, which is truly an unforgettable experience.
Help conserve a unique bond
Research has since proved that dolphins enjoy human contact. Many antique cultures consider dolphins as sacred animals.
Therefore, being around them and doing fun activities will be an enjoyable experience for both you and them.
Tips for Swimming with Dolphins
To get the most out of your experience with dolphins, it would be best to know what to expect. Here are several tips to ensure that your experience is unforgettable.
Be prepared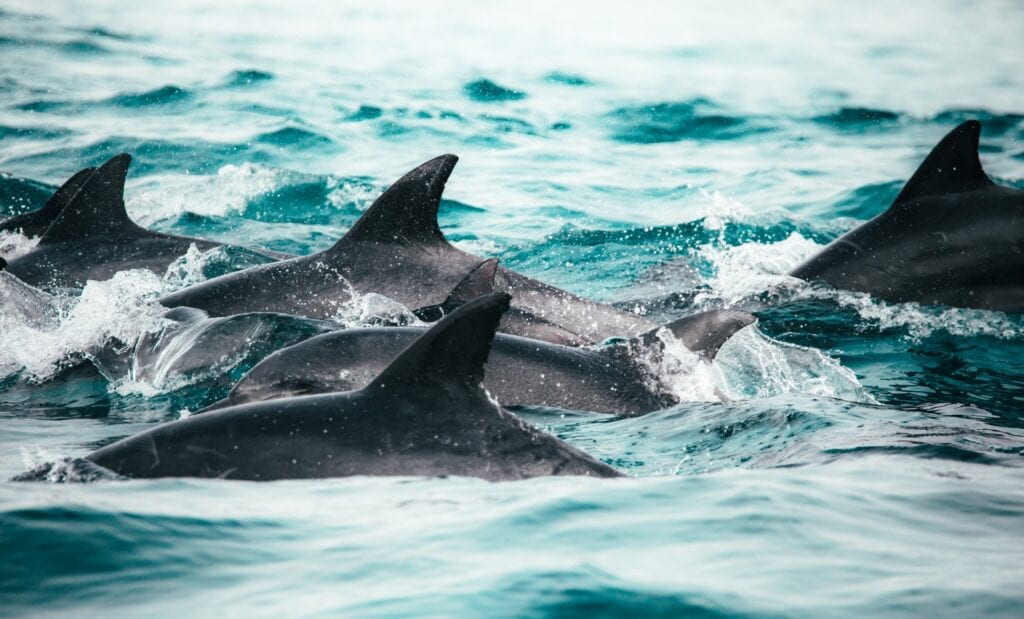 The only way to clear your mind of fears regarding this activity is to be prepared with correct information. You can know what to expect and what is required to participate in the interaction. If you booked your program online, it would be best to confirm all details regarding your reservation.
Choose your interaction depending on the kind of experience you want
Not all the interactions are the same. Nonetheless, all businesses are unique, and through them, you learn more about these beautiful animals.
Type of interactions includes:
One interaction- in this interaction, you swim with dolphins alone in a personalized experience for 45 minutes. If you have excellent social skills, have great communication skills, and are self-confident, this is the interaction.
Couples interaction- for a whole hour, couples enjoy a magical experience with dolphins, including eight various activities. This interaction is best for those who appreciate beautiful things, are sensitive and creative, and enjoy sharing good experiences with someone special.
Primax 4, Primax 6- these interactions are for larger groups. This interaction is for those who love collaborating and are generous to others.
Trainer for a day interaction- in this interaction, you learn to communicate with dolphins with signs and make them respond. For more than 90 minutes, you are in touch with them for an unforgettable experience. If you love new experiences and don't fear challenges, this can be the interaction for you.
Dolphin ride and splash interaction- here, you swim freely with dolphins, walk under the water with them and learn to care for the environment. This interaction is best for those who like to face situations and have a challenger personality.
Listen and learn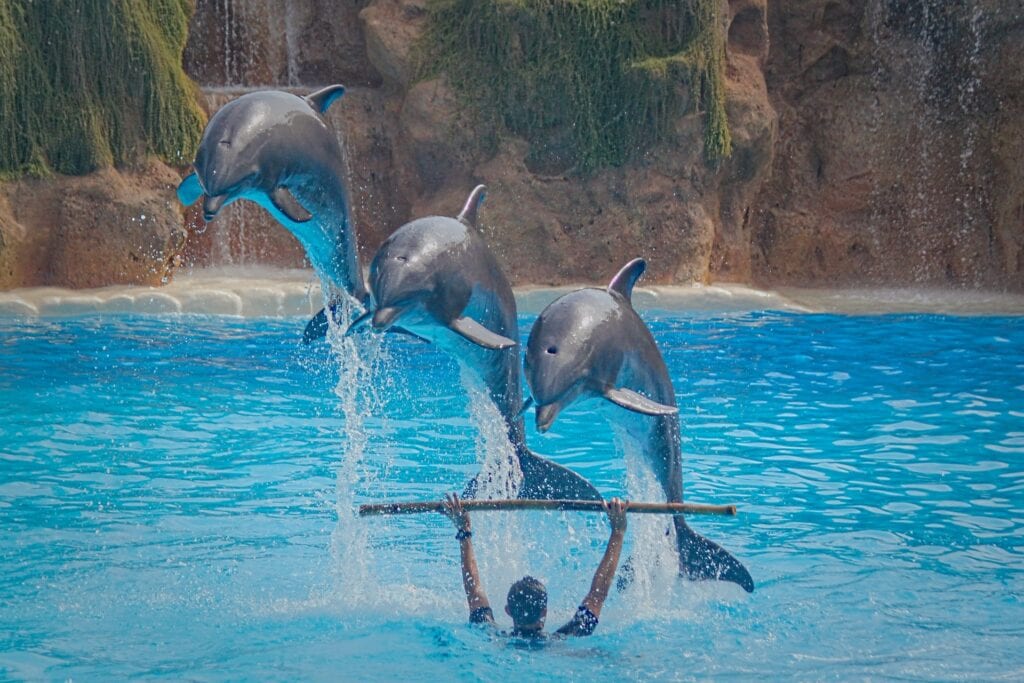 When it's time to meet your marine friends, you must follow all the Animal Care Specialists' instructions. Regardless of the interaction you choose, these experts will guide you on what to do and tell you what you need to know.
Wear only a swimsuit
Dolphins have susceptible skins, and since you will be touching them during the interaction, it's advisable to avoid wearing sunscreen, oils, or perfume. If you must wear sunscreen, it should be free of any chemicals.
You must wear a life jacket
Your safety comes first. As such, you should bear in mind that while an experience with dolphins is primarily an emotional one, it's also physical activity. This is why you must wear a life jacket for a comfortable and safe experience.
You don't need to know how to swim
While dolphin habitats are quite deep and large because dolphins are enormous and active, you don't need to be a great swimmer. Swimming areas have a platform on which you can stand.
Besides, you must wear a life jacket for every program.
Have fun!
Swimming with dolphins is all about having fun. Remember that this is your chance to interact with dolphins. Besides, dolphin experts monitor your interaction to hug and kiss the lovable animals with confidence.
Final Thoughts
Interacting with dolphins is undoubtedly one of the most fun and unique activity you can do. Such an experience exposes you to marine life and educates you more about lovable animals. What's more, several programs exist through which you can choose the kind of interaction you need depending on your personality or goal. Swimming with dolphins is indeed one way to spend a great vacation!