Are you planning your next trip to Paris but you're not sure when to go there? There are three types of seasons when you can visit Paris. It's all up to you to decide when you want to go.
Peak Season
The first season is called the Peak Season. This is between March-May and this is during summer and spring. This season is known to be the best time to visit the country as the weather is perfect for sightseeing plus there are a lot of festivals you can experience during these three months. The temperatures for these six months vary from 4 degrees at the lowest up to 24 degrees at the highest. The weather will be cool, warm, and pleasant.
In this season, there are important events that the Parisians prepare for. Since this season is perfect for outdoor activities you have the option to watch the French Open if you're interested in tennis. This happens around the third week of May. There is also the Paris Marathon that happens before the French Open. In this event, thousands of Parisians run 26+ miles and it is an event with the second-most finishers in the world, behind the New York City Marathon. The next Paris Marathon will happen on April 2, 2023, if you would like to participate.
Apart from this, you can also enjoy an outdoor picnic in one of the many gardens the country has to offer. An event that they consider as the highlight of this season called Foire du Trône is one of Paris' oldest traditional funfair. A lot of rides, good food, good music and best of all – fireworks – for everyone's entertainment.
As this season is one of the most popular seasons to be traveling, expect very high rates wherever you go. It's advisable to book in advance so you won't be disappointed. Also, it doesn't hurt to bring rain gear in case there's a shift in weather.
Shoulder Season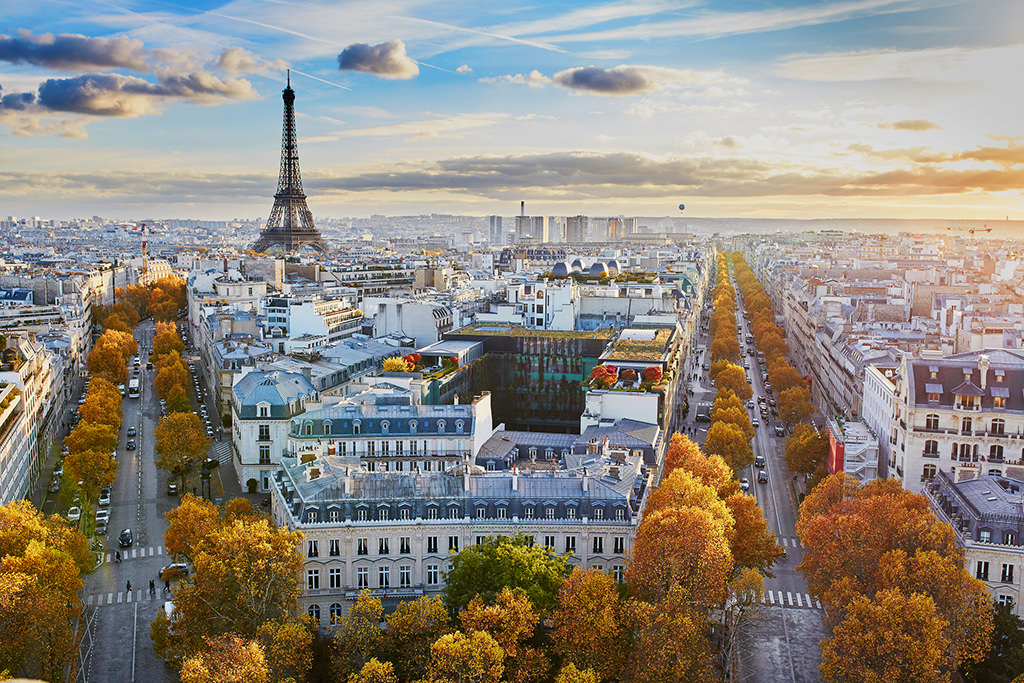 The next season is called the Shoulder Season, it's between September – November. Although there will be heavy rain in the county it's still considered a good time to travel. The temperatures for these 3 months would be between 5 degrees at the lowest and 21 degrees at the highest. The weather would be cool with moderate rain so don't forget to bring an umbrella with you at all times.
During this season, there's not much heat anymore and the crowds are less too. Autumn in Paris is still a good season for sightseeing, but the days will be shorter. There will be rains every so often and as you get closer to October, the temperature will suddenly become cooler and at night it'll get colder. To see Paris during the fall is beautiful and you will have the chance to brighten up your Instagram feed with the autumn leaves.
An event to look out for this season is the European Heritage Days. During this time you will have the ability to access many monuments for free, even the ones that are supposedly closed. Another event is the La Parisienne which is a race run mostly by women to support the research on breast cancer.
During October, you will be able to see a lot of art nights at the Nuit Blanche (All-nighter in English) where artists display their artworks across the city for free. By November, you have the opportunity to taste the new wines of the year at the Beaujolais nouveau.
Although it's not a season where a lot of tourists would come by, hotel rates won't be going down yet. If you plan on traveling this season it's always best to research accommodation with reasonable rates. Lastly, don't forget to bring a jacket with you at all times.
Low Season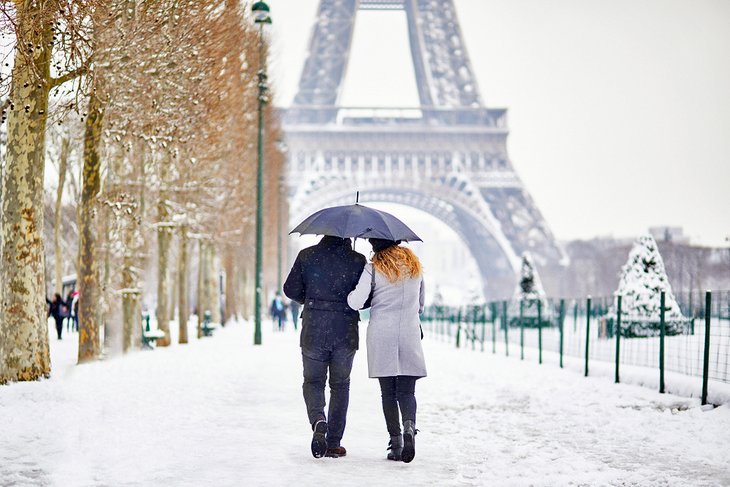 The final season is called the Low Season and it's between December – February. Have you experienced what winter is like in Paris? If you haven't then this is the perfect travel season for you. Even though it'll be cold and wet, the city becomes beautiful as it snows. No frost ever affects the city and snow usually clears in a day or two. You can also consider celebrating the holidays here if you want a change of scenery. Just expect to walk around the country in a minimum of 2 degrees and a maximum of 8 degrees. The weather for this season would be cold with a chance of snowfall, plus the days get shorter as the sun sets by 5 pm daily.
In this season, you can freely walk around the city and admire how beautiful the streets of Paris are. You can experience going ice skating in any of the temporary ice rinks that have been put up across town. It's actually possible to go ice skating on the first floor of the Eiffel tower. Who wouldn't want to miss the opportunity?
There are a lot of Christmas markets as well where you will see a lot of people going around buying gifts for the special people in their lives. The weather in this season is also perfect for keeping yourself warm by sipping wine or a cup of hot chocolate. In January, Paris hosts its Fashion week, so if you're interested in fashion you can get an advanced reservation online. It's best to book in advance because the seats are limited.
Tourists for this season may not be plenty so take this opportunity to see the best views and attractions of what Paris has to offer. A gentle reminder to bring a lot of warm clothes and a thick jacket.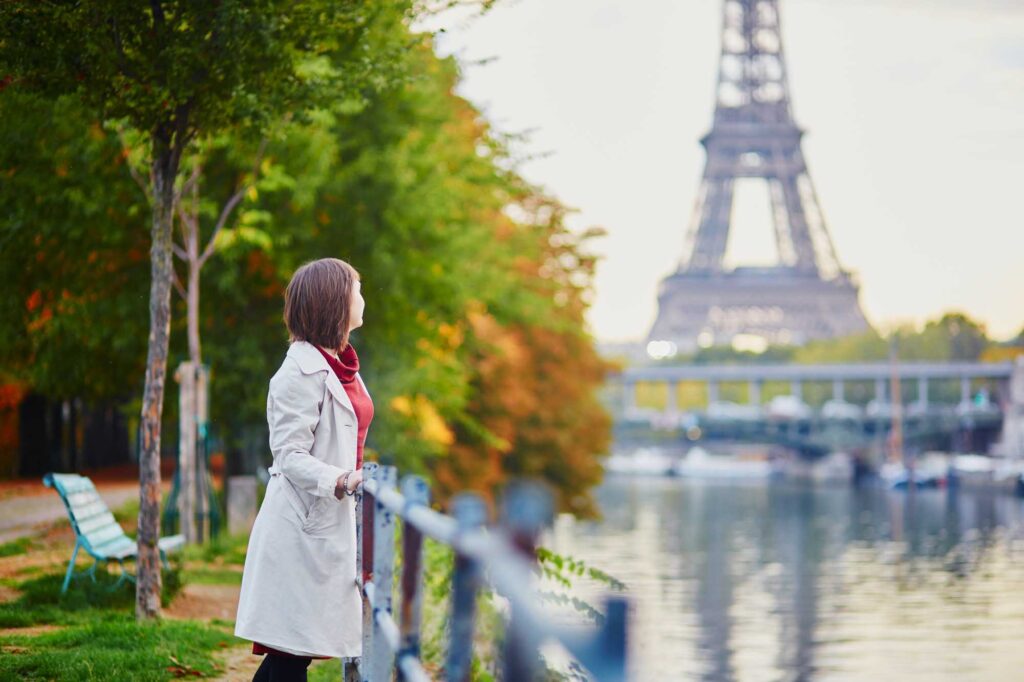 The seasons are all laid out above, how about adding a few restaurants, bars, or cafes that are best to go to depending on the month you'll be traveling?
If you'll be in Paris between March-May, here are a few establishments you can go to:
Iluma Alma Iberica (ILUMA) is an Iberian restaurant that serves Spanish and Portuguese specialties and tapas bar style. It's one of the latest restaurant and cocktail bars in Paris currently and they have a beautiful big terrace. You can have tapas, pitchers, and foods from the sun to share with friends and family. If you go here on a Wednesday evening, there will be live music varying from funk, soul, jazz, gospel, and more. There will be more entertainment to enjoy starting in September.
Fika is a cafe with a relaxing vibe and fits perfectly for the spring – summer weather. This cafe was established at the Swedish Institute and the way the cafe looks is very beautiful. You can enjoy sipping something cold while eating Swedish cuisine and pastries. If you plan on having a meal here, they're open from Wednesday to Sunday from 10 AM to 6 PM. They have this after-work style that they switch from on Thursdays and Fridays that's until 9 PM.
Sofitel Paris Le Faubourg is a five-star hotel with a very beautiful terrace to dine in. During the summer, the terrace is filled with leather sofas, lush plants, and a covered area if the weather decides to shift. They have a cocktail that will cool you down, it's tropical-inspired and it's created by their bartender chef Aurélie Bourré. To match your cocktail drinks, there are also snacks or appetizers you can order.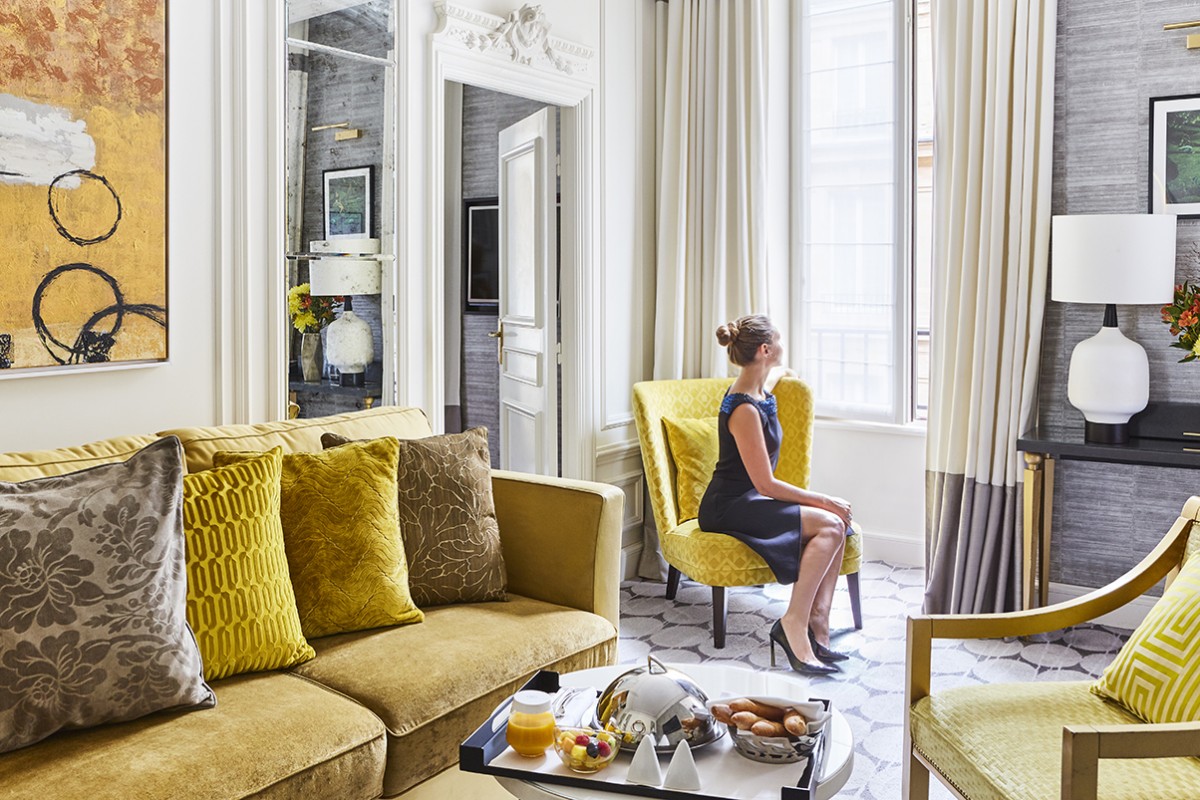 For the months between September – November check out these places that are best for you to eat and drink:
Marché Biologique Raspail is an organic open-air market that's open on Sunday mornings. It's like the place to go to taste street food in Paris.
La Fine Mousse is a perfect place to go if you're a craft beer lover. This cozy space is the perfect place to drink in the fall. You can even reserve a seat at the restaurant across the street that they also run and that specializes in food and beer pairings.
La Vache Dans Les Vignes has a good wine and good cheese for you to try. You may also observe the activity on Canal Saint Martin thanks to the floor-to-ceiling windows.
If you'll be traveling to Paris from December – February, you might want to consider going to these places:
Café de l'Homme is a rooftop bar that's stylish, and elegant and a view of the Eiffel tower can be seen. You have the option of choosing to sit indoors or outdoors while enjoying Asian and French dishes along with their promising dessert choices. For your drinks, you can choose from their large collection of wines and handcrafted cocktails. Making a reservation is recommended if you choose to dine in this restaurant.
L'Oiseau Blanc & The Rooftop is located on top of The Peninsula Paris and it's one of the exceptional hotels Paris has to offer. Its restaurant and bar have spectacular views to admire as you dine in.
L'Oiseau is known to be one of the best restaurants in town having a traditional French cuisine with seasonal menu changes every week. The Rooftop bar is outdoor but you are able to get a table and a magnificent 360-degree view of Paris, including the Eiffel tower. A lounge area is also available as you wait to be seated or just admire the view from the rooftop.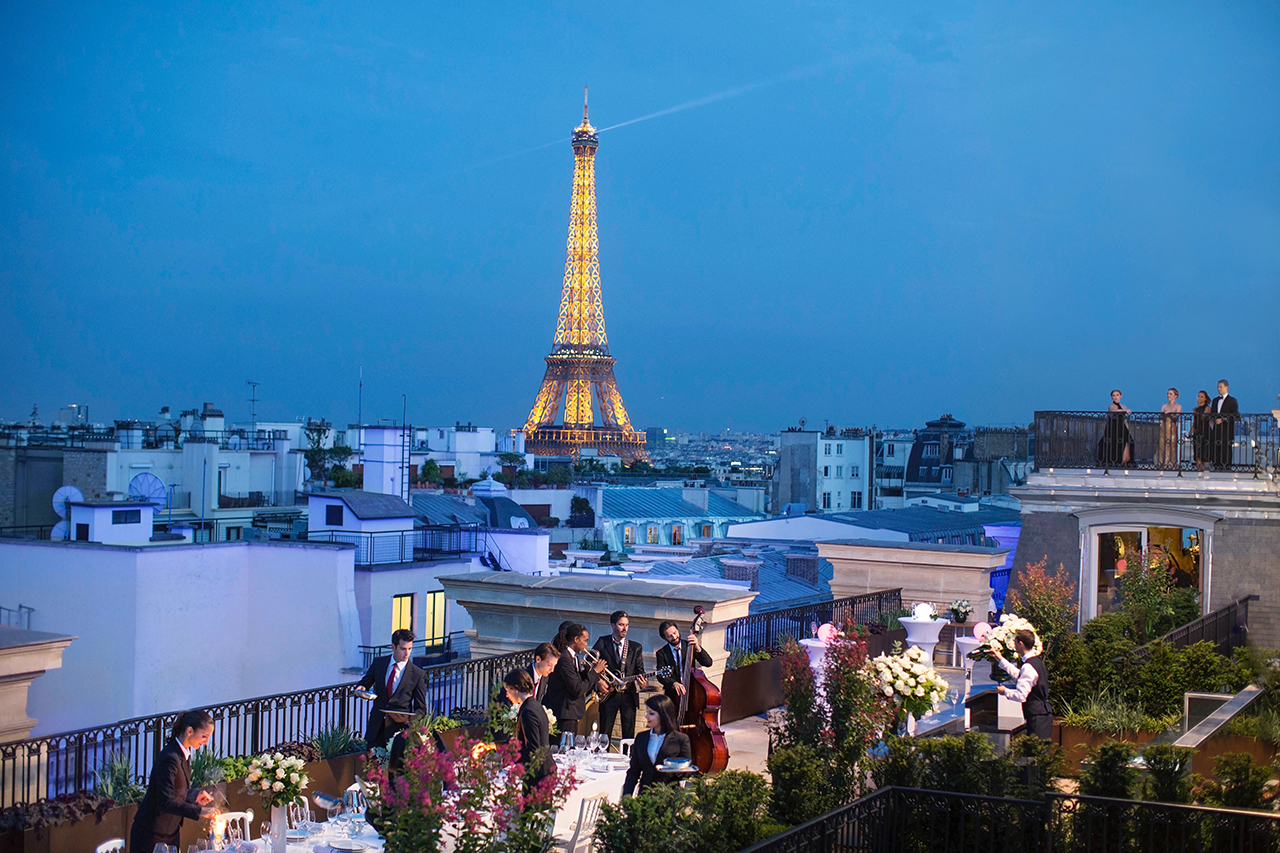 To dine in the restaurant you must have a reservation. For the rooftop bar, however, it's on a first-come-first-served basis. Expect this place to be pricey but seeing the view makes up for it.
Terrass" Restaurant & Bar is more of a cozy, sophisticated, and elegant type of restaurant and bar. They have indoor and outdoor seating, and this is located on the Terras" Hôtel Montmartre which has a captivating panoramic view of all of Paris.
For the meals, it's traditional cuisine but with a twist of modern style. Having a meal there is available for both hotel guests and visitors. They also have special brunches if you consider eating there at that time. For the drinks, you will have the choice to choose from fine wines, beers from all around the world, and 16 different signature cocktails made with their best ingredients.
Reservations are available for indoor dining, but if you'll be eating at the terrace you're advised to come early to get seats or wait. While waiting, you can even review how to play poker at gentingcasino.com.
What's also good about this place during the winter is that both indoor and outdoor areas are heated. They want to make sure that you get to enjoy the view, your meals, and drinks without any inconveniences.
Hopefully by the time you've finished reading you've made a draft plan on when to go, where to eat, and the places you want to see.
See you in Paris?