Do you have wanderlust, and do you travel a lot? If yes, then what keeps you sane when you are not traveling? Because you do have to come back to your safe haven after some time to work and earn.
When you are not traveling, the thing that can keep you sane is travel inspiration. To make your home look like a globetrotter's home, you need to incorporate the memories of your travels into home interiors.
Following are some travel-theme home décor ideas to glam up your home:
Flags Wall Art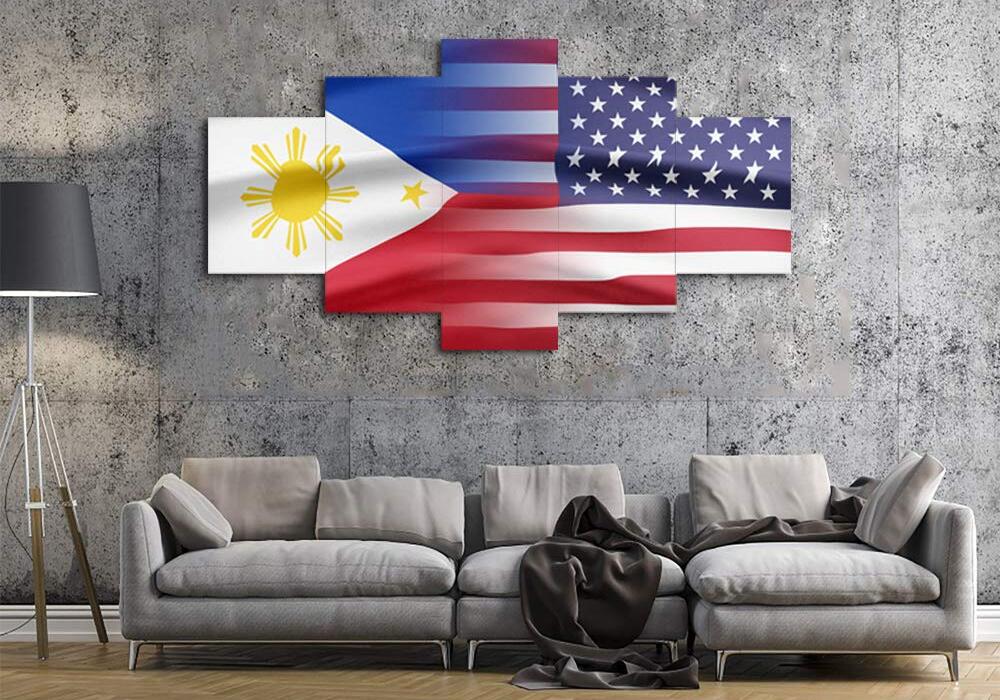 Flags wall art like this is a unique way to style up your décor. You visit different countries and know about their culture, lifestyle, and specialties. Sometimes, you prefer one country over another for several reasons.
You can decorate the walls of your home with flag wall art of those countries. It will also revive your beautiful journey of that location, and you can show your love towards that country.
For example, if you want to revive the camping days of your visit to America, you can hang wall art related to it in your room.
A Gallery of Memories
Suppose you do not have enough space to put a large painting or image on the wall. In that case, you can create a Gallery Wall. You can create a composition of different photographs or illustrations, which share a travel theme.
You can use the images with distinct formats, frames, and styles but with the same theme. It will create a coherent effect. In case of a travel theme, you can hang a personalized collage.
Repurposing Suitcases
Have you ever thought about using the suitcase for decoration purposes? You will be surprised to know that you can use them to add a quirky yet very artistic touch to your space.
You can stack vintage suitcases in a corner and use them as a nightstand. If you have worn out a bag, do not throw it because your beloved suitcase has traveled a lot with you.
You can modify it a little, use it as a tabletop. Or open the suitcase, fit some cushions, and add legs to have your customized chair.
You can use your suitcases in different ways, such as mini bookshelves, magazines, and newspaper racks.
National Geographic Map
When you are at home, you keep thinking about traveling. The world map print from National Geographic serves as a gateway to different countries. The geographic map can cover the entire world on the canvas and cover a giant wall of your room.
You can dot with pins with different colors to highlight the places you already visited. Every night, when you snuggle into bed, you look at a map on the wall above your bed. You recollect those beautiful travel memories.
And before you know, you fall into a dreamland of precious moments with past adventures.
Scenic Prints
A person with wanderlust gets inspiration from different scenic art pieces. Despite visiting beautiful spots every time to enlighten your bad mood, you can look at the art pieces.
You can hang various art pieces such as custom photos, wall art, or handmade paintings of those scenic spots. They will change your bad mood. These pictures can be of various landscapes, beaches, natural wonders, or many more.
The main thing is to display whatever inspires you. It is the best way to get inspiration in your dwelling, even after visiting that place already. It sets the tone of excitement in your room.
Travel Photo Throw Pillows and Bedsheets
Are you passionate about traveling? If yes, then you can get travel-themed bed covers. Such as you can decorate your bed with customized quilts and pillow covers of the places you like or want to visit.
You can purchase a cotton duvet set that includes a bedcover with a country map or flag and pillow covers with flag colors. These will surely match your theme bedroom.
Wood Mountain Shelf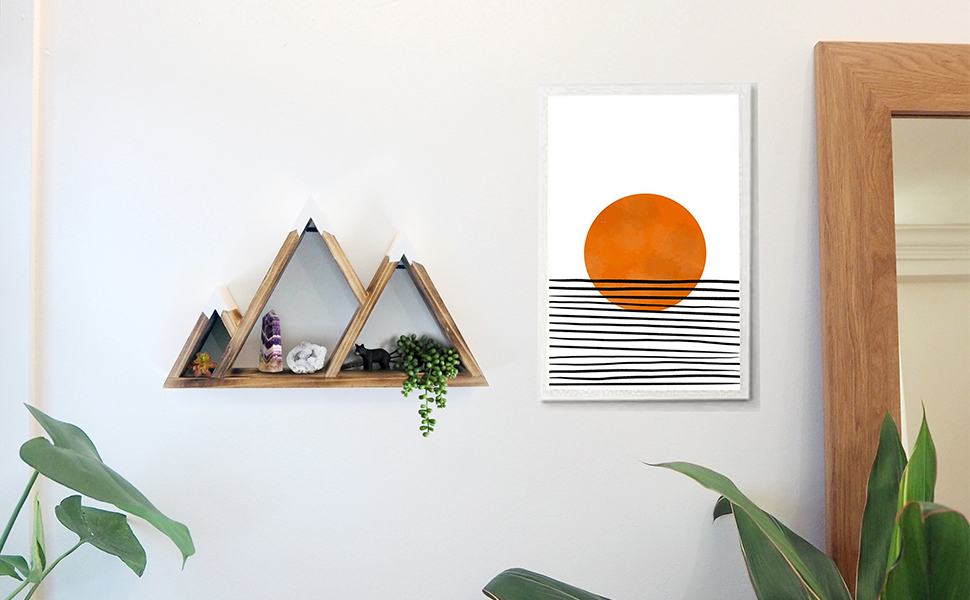 You can decorate walls with mountain shelves that have three peaks or custom-made from knotty pines. They will make a great piece of interest to your home and make you think about your time in the mountains.
You can hang these shelves easily on the wall with two simple nails. They are available in the market in different stain colors.
Fridge Magnets
You can cover your refrigerator with various souvenir magnets you brought back from travel destinations around the world. You can customize the classic glass magnets with atlas map paper.
During customization, choose your favorite destinations in the world or places you want to go. The magnets are available in various shapes and sizes. Each time you open the refrigerator door, it will remind you about your journey.
Map Shower Curtain
Install travel-theme shower curtain in color blue and cream with a crisp world map design. It will help you pull the bathroom look together. 100% softened polyester is used in these shower curtains.
These curtains have a machine-washable fabric with a standard size of 70 x 70″. But custom sizes are also available if required.
World Monuments Paintings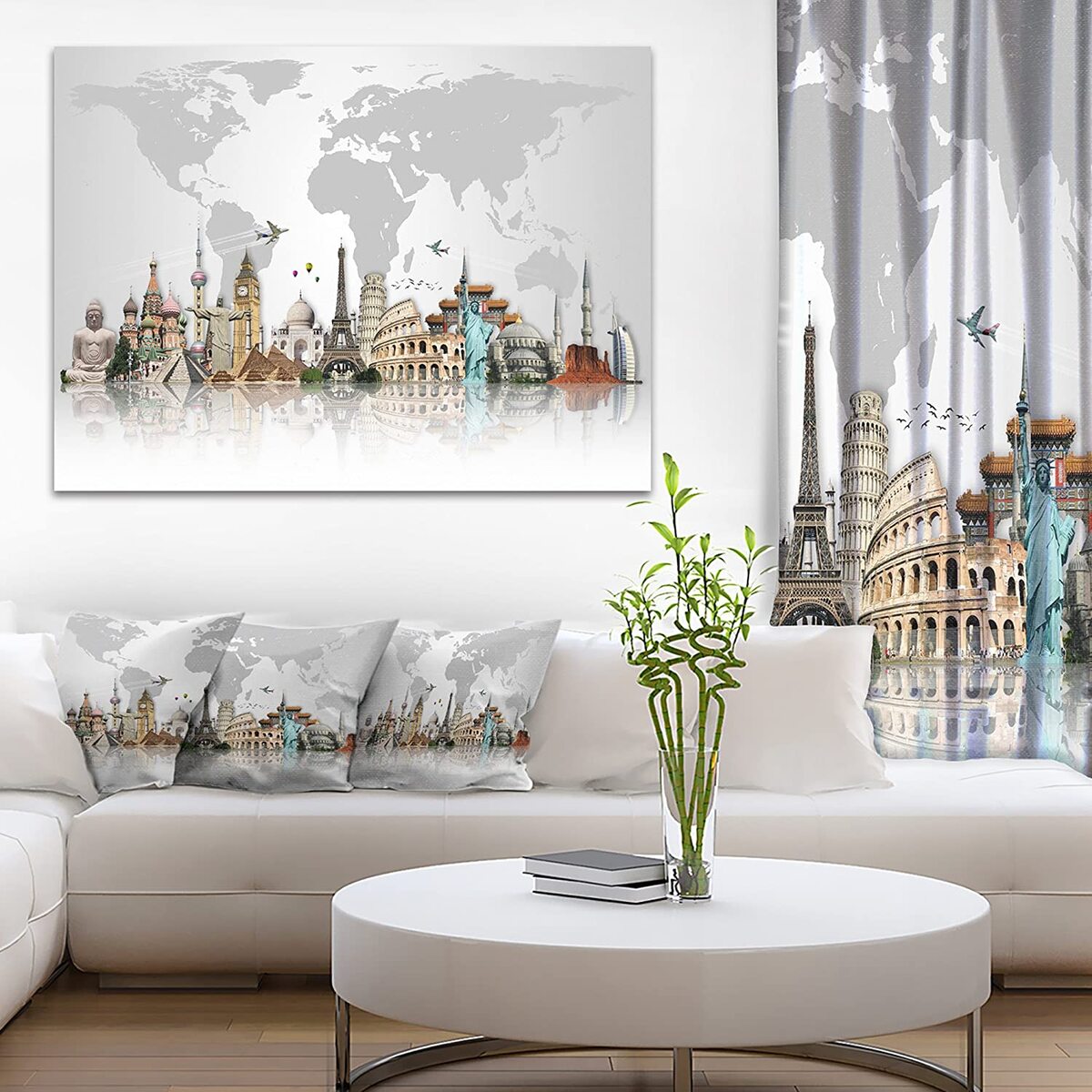 Besides hanging photos of your trips, you can hang paintings of the monuments. You can purchase a miniature or picture of the monuments from each country or place you visit.
It is not compulsory to have the symbol of a famous place, but it can be anything that has a beautiful meaning. As the list of destinations you visit grows, the collection of illustrations or paintings grows automatically.
World Map Wall Clock
The world map wall clock is a unique way to decorate any room of the house. These clocks are readily available at affordable prices in different colors. You can hang these clocks to display time as well as show your travel love.
Final Words
Are you a travel lover, the one who likes to get knee-deep into the destinations you visit? If yes, then you might reflect your love of traveling at your home. There are tons of travel-inspired ideas that you can incorporate into your home interiors.