If asked about the perfect vacation, everyone would have a different answer. Some would say a fantastic concert by their favorite artist would be ideal. Other quieter folks would say a week in the mountains would be perfect, but whether you're one of the rowdy bunch or a peace-lover, one thing is for sure. You just can't hate the beach.
Rabbit Beach, Lampedusa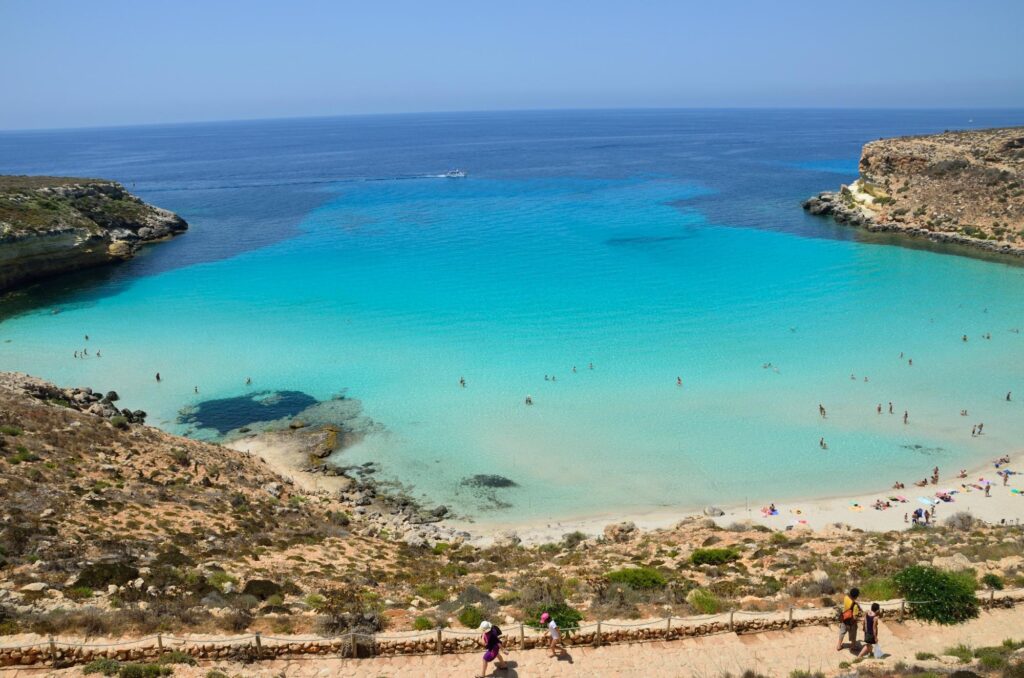 They say nothing worth doing comes easy, and this South Sicilian beach surely lives up to that saying. One of the purest beaches in the world is not easily accessible, as it is only accessible by boat or ferry, but it's worth the hassle. As such, this seclusion has stopped it from becoming one of the most crowded beaches in the world, but that didn't stop it from being one of the most beautiful beaches on the planet.
White sands and turquoise water is evidence of the purity of this beach; maybe this purity is the reason that it's one of the last places the endangered loggerhead turtles lay their eggs in? What it lacks in tourism, it makes up for with the sense of untainted purity you get from this magnificent beach. For those looking for a peaceful escape in a natural haven, Spiaggia Coniglio is definitely the place to be.
Cabbage Beach, Paradise Islands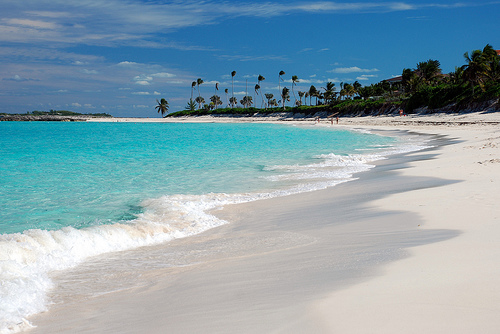 Get it? Rabbit, Cabbage? Ok..moving on, Cabbage beach is located in the Bahamas, northern side of Paradise Islands to be precise. One could argue that Cabbage Beach is the most popular beach in the Bahamas, with a multitude of restaurants and hotels. The waters on this paradise are pleasantly clear and the sand is comfortably soft. Other than being mesmerizing to look at, there's little reason to get bored. Packed with people from around the world, this tourist attraction raises the probability of meeting people that would give you a memorable experience.
While sitting on the soft beach observing the liveliness of the beach can sound appealing in itself, Cabbage Beach features many attractive aqua activities you can do. For the active bunch that loves the crowd, Cabbage Beach is definitely a place to visit.
Matira Beach, Bora Bora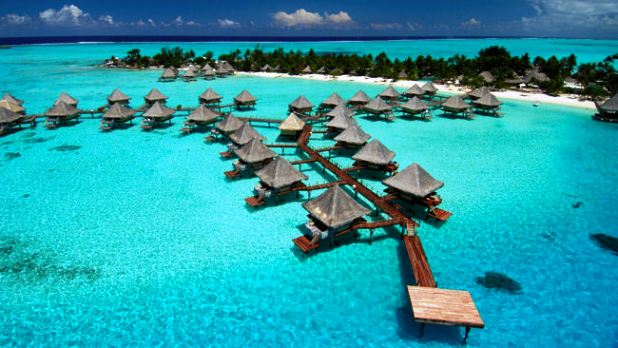 It's amazing how Matira beach can be the dock of so many cruise ships yet still maintain its relaxing sense of peace. For luxury lovers, Matira Beach is known for its luxurious sea resorts. For the romantics, the powdery white sand and gorgeous scenery make way for a comfortable sit down with a drink, your partner's company, and the beach's natural serenity. The reason for it maintaining that serenity and peace with such a large crowd is that it goes on forever.
You literally cannot see the end of this beach, which makes way for long romantic walks at sunset, or a long night walk with nothing but you and your thoughts. While the water might appear crystal blue, be advised that there are some sharp corals as soon as you enter, disappearing as you go further in the water.  There's also WiFi for those who can't leave their phones, which is everyone right?
Wineglass Bay, Tasmania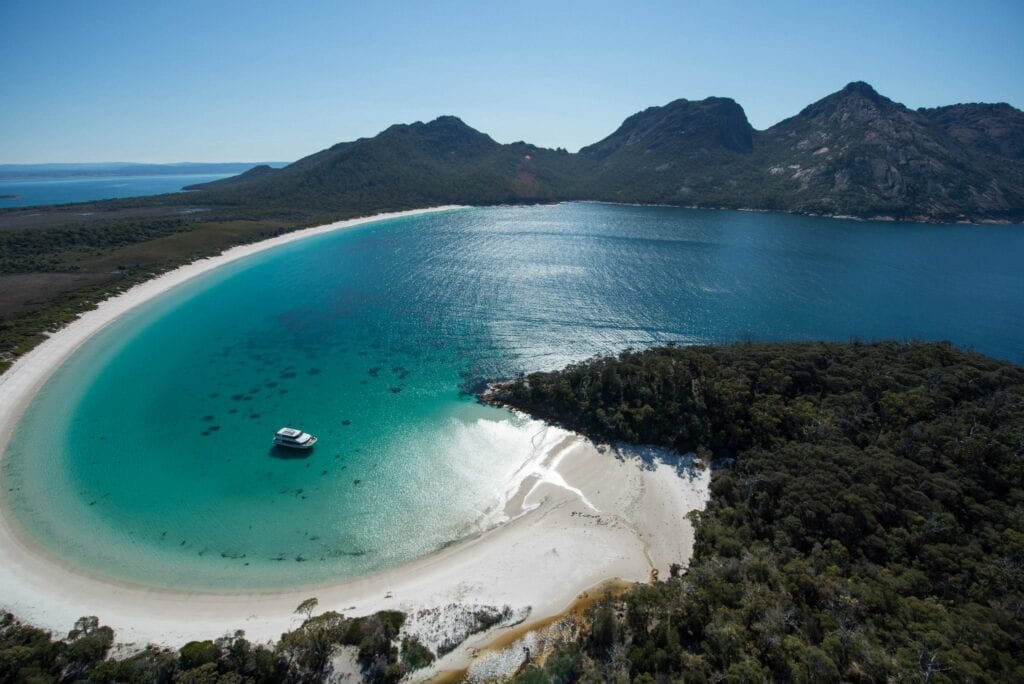 For the sake of my childhood, I could not ignore Taz's home country. Tasmania isn't only famous for being the birthplace of Looney Tune's wildest and most fun character, it's also home to Wineglass Bay, one of the most beautiful beaches in the world. One thing this island has over others is that its weather is perfect all year round, with the exception of a few rainstorms, which makes it perfect to visit any time of the year. There's always something to do here like fishing, sailing, rock climbing, etc.
Wineglass sure knows how to treat the romantics with its secluded white sandy beaches and delicious Tasmanian cuisine, the service has become a world-known for setting the right mood making it a favorite among honeymooners. The way the white sand naturally bends with the turquoise water makes it easy to see why this beach earned its reputation as one of the best beaches in the world. If you love walking and animals then Wineglass will give you an unforgettable experience, seeing white-bellied sea-eagles, wombats, quolls, and last but not least, the notorious Tasmanian Devils!
Champagne Beach, Vanuatu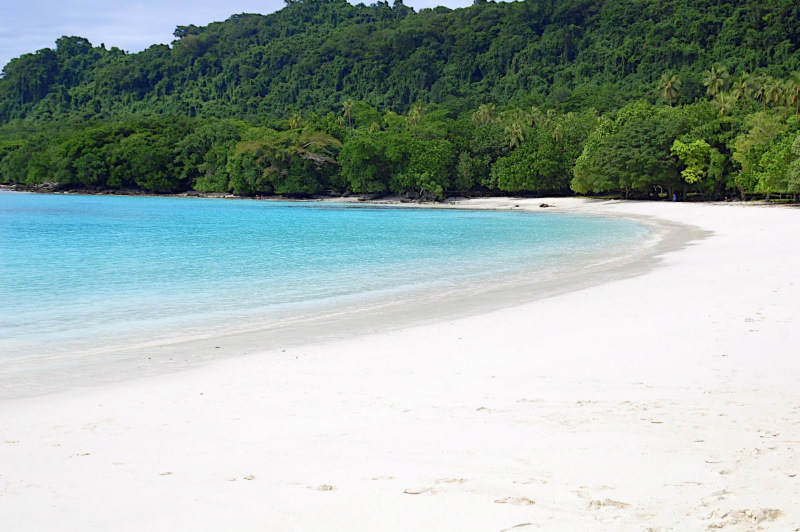 Vanuatu has been named the happiest nation on earth, and you can tell by the pictures. Native kids and adults are almost always seen smiling in most pictures, even tourists are caught genuinely grinning like fools, and what more do you want? A vacation is meant to uplift your spirits, and Vanuatu does just that. This beach got its name after some of the first travelers to the region saw what they called a phenomenon, shallow waters seemed to fizz at low tide which gave a bubbly champagne look. This of course only happened because of gas escaping volcanic rocks on the seafloor. The rare pink-tinged sand that swims in the clear turquoise water gives it a unique look rarely found in other beaches.
While soaking up the beauty of the beach and enjoying the company of locals is enough to guarantee a heart-warming experience, snorkeling is a very common activity on this magnificent beach. Often cruise ships dock on the beach, allowing tourists and locals to enjoy a cold drink or go shopping for souvenirs. Cruise ship passengers usually interact with locals and tourists. I put this beach as number one not only because of its beauty or natural fizzing phenomenon but because of the stress-relieving power it has, which will definitely make it a favorite in your vacation list.