When you hear about Europe and its beauty, your mind automatically goes to La Ville Lumiere (City of Light) Paris, La Cita Eterna (The Eternal City) Rome, The Big Smoke London and many others. This, of course, causes other magnificent cities to be unfairly overlooked. Here are just 5 of the most underrated cities in Europe.
Bruges

What city comes to mind when you think of romance? Certainly the City of Love, Paris. Or maybe the City of Water, Venice. Bruges is known to be a romantic city, however, it is still undervalued. There are many things to do for love birds in this beautiful city, as you can tell if you visit Minnewater Park. To start off, the scenery here is just magical, as close as it gets to a fairy tale. But that isn't all, for in the heart of this fairy tale lies a breathtaking lake. Back when Bruges as part of the Roman empire, there was a beautiful girl named Minna who fell in love with a warrior from a neighboring tribe called Stromberg. But what is love if it isn't forbidden right? See her father disapproved of it and arranged a marriage for her, but her love for Stromberg was too strong causing her to run away into the forest. Stromberg set out to find her, but he was too late as she was fatigued, and similar to a very familiar Shakespearean legend, she died in his arms.
That forest became a park, named after Minna, and her place of death became a bridge over the lake of love. Their love was strong enough to survive until now, causing the common belief that crossing this bridge with your significant other will make your love as eternal as Minna and Stromberg's. When in Belgium, it's a must to try the world-famous Belgian chocolate, and where better than a chocolate museum? Choco-Story provides a sensational history of everyone's favorite bean, the cocoa bean. There are just way too many intimate locations in Bruges, and taking a ride on the steam wheeler is a fun and unique way to visit many of them, seeing gorgeous swans along the way (known to be mates for life).
Lyon

Paris might be the main attraction in France, some might say rightfully so, others might say it's overcrowded and a bit overpriced. Lyon, on the other hand, is a bit cheaper and a lot more homelike. One of Lyon's many attractions is that it's one of the cheapest and most reliable gateways to the French Alps, which is perfect if you want to escape the noise and rowdiness of the city life. No one can deny Paris' impact on the cinematic stage (Moulin Rouge, Midnight in Paris, etc.) but Lyon created movies. In December 1895, Lyon's two sons Auguste and Louis Lumiere made history by officially screening the first motion picture ever.
A visit to the Institut Lumiere's museum and cinema is a must for movie lovers or anyone who wants to pay tribute to the marvelous gift these brothers have given us. Enforced with chocolate waterfalls, chocolate faucets, and multiple chocolate bars stacked like books in a library Chocolat! is an enchanting place to visit for any chocolate lover. If you're lucky enough to visit Lyon in December, then you'll witness the mind-blowing Festival of Light, a tribute to the Virgin Mary for saving the city from a deadly plague. Ever since then, they've been celebrating this day by illuminating neighborhoods and closing off main roads, allowing approximately 4 million people to enjoy the light show! Generally, Lyon is a beautiful place for those who like to walk and absorb the city around them.
Ferrara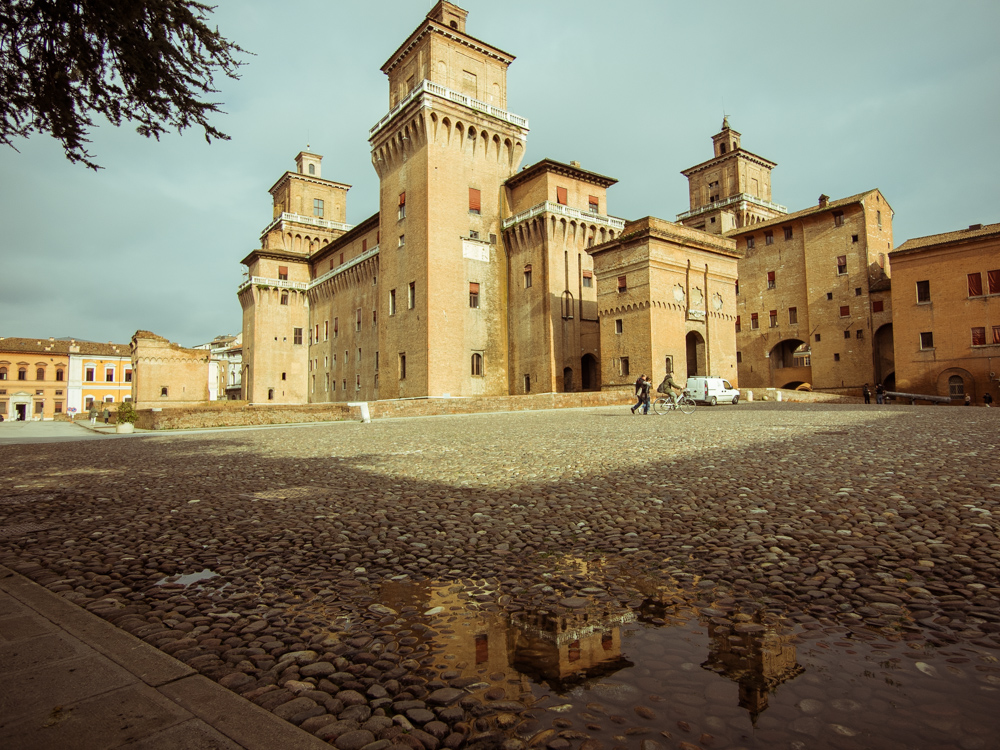 In Bruges is a fairy tale, then Ferrara is a medieval city, to say the least. Giving birth to artists and writers is very easy when there's an inspiration on every corner. Florence is widely known to be the birthplace of the Renaissance under the rule of the Medici; it is less known however that Ferrara flourished under the rule of the equally impactful Este family. The Estes transformed a peaceful and quiet city into one of great importance, excelling artistically and booming economically. This great work caused some of the biggest artists of the time including Michelangelo, Piero Della Francesca, and many others to work for the Este court. These great names innovated the city, and their work can still be seen all over it. The perseverance of these ancient castles and walls is very admirable.
The Castello Estense (Este Castle) is a perfect example of this, as earthquakes damaged this once magnificent castle, but it was well restored and turned into a museum. The outside of the museum is a spectacular view, but the inside tells the glorious story of Ferrara. While the courtroom and private chambers are a hint of the lavish life they used to lead, the dungeons kept some of its scariest features, which is sure to make the hairs on the back of your neck stand. Ferrara is not only a city of art and fancy architecture but also holds one of the largest wetland areas in Europe. Italy's largest river flows through the Po Delta, attracting over 400 different species of birds, making this one of the most scenic places in Europe. This city's quiet streets are bliss for people looking for peace and tranquility, enjoying the historic buildings in the process.   
Reykjavik

Rarely seen in any top 10 must-visit cities in Europe, this Icelandic capital is heavily undervalued. Reykjavik has so many natural wonders, including glaciers and magnificent waterfalls, it can be hard to see them all in one visit. Ever seen water erupting like a volcano from the ground? These are called Geysers, and they are a marvel to watch. Iceland provides multiple tours to see these natural phenomena, so take your time to pick the best one. Speaking of tours, Iceland's tourism has boomed ever since the filming of blockbuster movies such as Prometheus, Interstellar, Thor: The Dark World, and the show that captured the hearts of millions Game of Thrones. Reykjavik, in particular, was home to a good amount of filming, providing tours to these filming locations and explaining how some of the greatest scenes were filmed. Seeing how small Reykjavik is, it might come as a surprise that the nightlife is one of the best things this city has to offer, but this is precisely why it is so.
The city center Laugavegur is not only the main shopping street in the capital but also where most of the bars are. None of these bars have an entry fee, and they offer a multitude of genres, which makes bar hopping a pretty common thing. All these activities are great to find friends and maybe lovers, but the best things to do in Reykjavik don't have to include large groups of people. Bird watching and relaxing at the local pond, feeding the birds, and enjoying the serenity of it all, but one of the most miraculous world wonders occur in Reykjavik. The Northern Light is a rare site where the dark sky glows a series of colors, usually fluorescent green leading to a flurry of beautiful colors including red and purple. They can be seen at any time of the year, but they shine the brightest in the coldest months, which are also the darkest. It truly is a breathtaking sight that you can spend hours gazing at without noticing the time. This once-hidden gem of Europe is now gaining some fame, and rightfully so.
Budapest

The reason that this city is the last one is that this is the biggest city you've never thought of visiting, and that's a shame. Budapest has all the qualities to be considered a mega-city but it lacks fame in comparison with the Berlins and Milans of the world. Being on the bank of Europe's 2nd largest river, the Danube, the capital of Hungary is one of the biggest cities in Europe. Roaming around this city, there's so much to see that it's impossible to list them all in this list. The fact that it has its own currency makes it pretty cheap compared to other major league cities around the world. Budapest is just an architecture's dream, with its ancient buildings, statues, and bridges, namely the Chain Bridge. This work of art connects the western Buda and the eastern Pest over the Danube river, and it was considered one of the world's engineering wonders in the 1850s.
Relaxation is a huge part of Budapest's culture since they have more thermal springs than any other city in the world which gave birth to a multitude of medicinal baths and the world's largest thermal cave. Having over 220 museums would sound overkill, but not when you know about Hungary's rich history. The second oldest metro line in the world, the magnificent 14th century Buda Castle which dates back to the middle ages, Roman remains at the Acquincum Museum, the Hero's Square which holds statues of the 9th-century chieftains of the Magary, the 1865 Budapest Zoo and many more historic buildings that can't all be mentioned. This is a city where you could be standing on the site of countless murders, yet still, feel its beauty and serenity. The people in this city are known to be friendly and helpful. Most are proud of their city but also humble, ready to share what they know about their history and culture. Being a huge city, the nightlife is booming. With affordable clubs, bars, and open-air clubs, the Hungarians really know how to party hard!